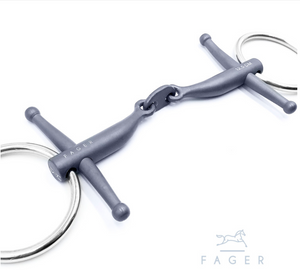 Titanium Bits
---
Titanium is an amazing material that will give your horse comfort in so many ways. Fager's surgical titanium is warm to the touch and will give your horse higher comfort than normal steel bits, especially it is cold outside.
Titanium has superior strength that will hold for more than a lifetime. It is also non-toxic and hypoallergenic, which means that you can't get any allergic reaction from it. Titanium is tasteless unlike other materials on the market and our surgical titanium has also been shown to improve acceptance towards the bit when no other bits have succeeded.
Sorry, there are no products in this collection.